About
WordPlayer is a simple, very small Flash MP3 player designed to play 1-word MP3 files. No knowledge of Flash is required. It's ready to use.
Skills That Your Need
In order to use this, you need to be able to:
Record and edit audio files. (Audacity will do the job.)
Save (or export) one-word segments into individual MP3 files. (You can do this with Audacity if you install LAME.)
Edit HTML.
Upload files to a web server.
This is provided "as is" without support. If you can't figure out how to use it, ask a friend to help.
An Example
One Possible Way to Use WordPlayer
The Most Recent Version
There is a possibility that it may be updated, so if you are using it, you may want to check back here from time to time to see if there is a newer version.
The first 2 versions just give you a choice betwee a round button or a square button.
v. 0.02 - Released April 5, 2006
wordplayer.swf - Round Play Button. (Less than 1 Kb)
v. 0.01 - Released April 5, 2006
wordplayer001.swf - Square Play Button. (Less than 1 Kb)

License
You may download and use this freeware version if each of the following statements is true.
Your project is publicly available for free on the World Wide Web.
Your project is not on an intranet or in a password protected area requiring visitors to log in.
Your site is non-commercial. Any site that has advertising is considered commercial.
You or others, such as the owners of a "free" site, are not earning money from your web site.
You do not send spam and your site does not ask visitors for their email addresses.
Your site does not promote hate or violence.
Your site does not contain pornography.
You have not altered the wordplay.swf file in any way.
If your project is for ESL/EFL students, please submit your link to iteslj.org/links so that all web-connected ESL/EFL students can benefit from your work.
How to Use It
Step 1: Download the Files
Windows users should right-click the links. Macintosh users should option-click the links.
Step 2: Put the Downloaded Files in Their Proper Locations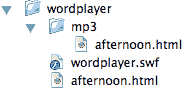 Step 3: Put Your Own MP3 Files in the MP3 Folder
This wordplayer.swf is meant to be used only with single words. (no spaces in the filenames)
Use proper capitalization in the filenames.
Format = "the word" + ".mp3"
Step 4: Edit the "index.html" to Match Your MP3 Files
Make one page for each word.

dog.html
America.html
(Note: the filenames here don't matter, but perhaps making the pre-extension part exactly the same as the MP3 file would simplify things.)

In the HTML of your page, change the word "raggae" (in 2 places) in the following to match your word.

Notes
You can change the size of the Flash "movie" by changing the following in 2 places. (You must change it in both places!)
You can change the background color of the Flash "movie" by changing the following in 2 places. (You must change it in both places!)
While it would be possible to put more than one word on a page, that is not how this SWF file was designed.

This SWF file will immediately play the MP3 file as soon as it is loaded.
The listener then has the option to listen to it again by pressing the button (or clicking the word).

Words containing characters not allowed in filenames cannot be used.

This version of WordPlayer was designed to be used for English words.
---
This is part of Interesting Things for ESL Teachers.
---