About
Briefly, ...
This is a pre-compiled Flash application that plays a folder of sequentially numbered MP3 files and displays the information in the ID3 tags. The way I frequently use it is to split a longer MP3 file into smaller files, each with one sentence or phrase. I then put the text of what is being said in the "songname" tag of each file.
Take a Look
Screen Shot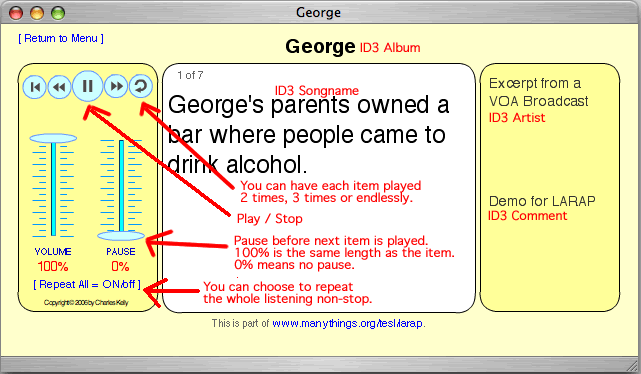 License
You may download and use the distribution version of the "larap.swf" if each of the following statements is true.
Your project is publicly available for free on the World Wide Web.
Your project is not on an intranet or in a password protected area requiring visitors to log in.
Your site is non-commercial. Any site that has advertising is considered commercial.
You or others, such as the owners of a "free" site, are not earning money from your web site.
You do not send spam and your site does not ask visitors for their email addresses.
Your site does not promote hate or violence.
Your site does not contain pornography.
You have not altered the "larap.swf" file in any way.
If your project is for ESL/EFL students, please submit your link to
iteslj.org/links
so that all web-connected ESL/EFL students can benefit from your work.
How to Get a Copy of "larap.swf" for Your Web Site
This is still in development, so for now, I'm asking that you only request a copy if you meet the license criteria, are immediately willing to install it on your server, will create a listening of your own, and then send me that URL, your comments, bug reports and other feedback.
Send me a message
requesting a copy. In the message, include your email address, the URL of your web site and the potential URL of the subdirectory where you will host activities using larap.swf.