The Tatoeba Project
A Corpus of Multilingual Sentence Equivalents
The Tatoeba Project is a group of people working on a corpus of sentences and their translations that can used by various projects under the Creative Commons - Attribution 2.0 license.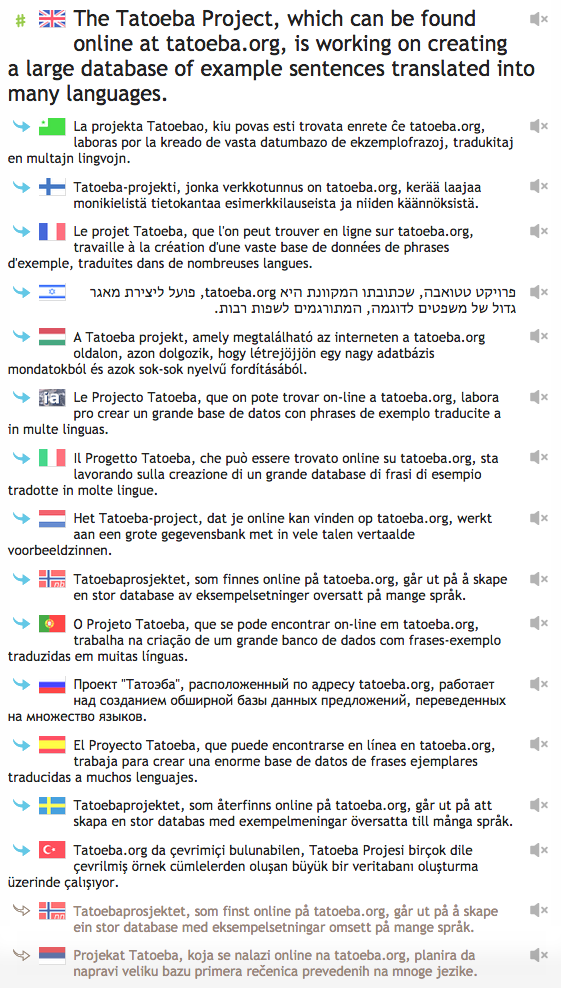 Using Our Data
You don't need to register to do these things.
Search for sentences using the search form at the top of every page.
Visit the "home" page to see a randomly-selected sentence, recent contributions and comments.
Download our data to use in your own projects.
Join the Tatoeba Project and Help
The 2 Ways You Can Be the Most Helpful
You can translate from a foreign language you know into your own native language or strongest language.
You can create natural-sounding sentences in your own native language for others to translate into their native languages.
Some Basic Rules
We want complete sentences.
We want natural-sounding translations, not word-for-word direct translations.
Don't add sentences from copyrighted sources.
(There are more Guidelines and Rules in the Wiki.)
How to Contribute
You can

translate a sentence

by clicking on this icon whenever you see it.

Please do not forget capital letters and punctuation.

You can add

alternate translations

.

If you feel there are several possible translations, you can add them all.

You can

add comments to sentences

.

If you find a mistake, leave a comment, suggesting a correction.
Register to Become a Contributor
Now that you have read this short introduction, you can register.