Learn a Song
Return to Learn Songs
About & History
About the "Learn a Song Podcast"
These podcasts are short and designed to be listened to more than once, so listen and sing along as many times as you need to learn the song.
I choose songs that a large number of native speakers know. These are songs that we sing around the campfire and other gatherings or learned at school. They are part of our culture.
The MP3 file starts out with a "Listen & Repeat" practice to help you easily learn the words and the melody.
This is followed by the complete song.
To make these files useful for ESL students to also use for pronunciation practice, I did not add any extra echo or other effects to the recordings.
I only record and upload songs that are in the public domain. However, these recordings are copyrighted by me and should only be distributed from this website.
My First "Learn a Song" Activity on the Web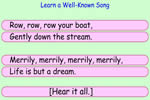 Row, Row, Row Your Boat
This is something that I did a long time ago.
You might find it fun to use.
In the early years on the Web, this seemed very exciting and creative. However, now it looks old fashioned.
History
In order to conserve bandwidth, these MP3 files are no longer available for download. However, some of these have been converted to Flash and may be used online. (* see above)
I'm a Little Teapot
* Won't You Come Home, Bill Bailey?
* Auld Lang Syne
Jingle Bells
I'm Going to Leave Ol' Texas
Row, Row, Row Your Boat
* Cluck Old Hen
* Swanee River (Old Folks at Home)
* Oh When the Saints Go Marchin' In
99 Bottles of Beer on the Wall
* Let Me Call You Sweetheart
* John Jacob Jingleheimer Schmidt
* The Noble Duke of York
My Bonnie
The ZYX Song (Learn to sing the alphabet in reverse.)
Old MacDonald
Old Dan Tucker
Black-eyed Suzie
Goodnight Ladies
I've Been Working on the Railroad
The Farmer in the Dell
* Baa Baa Black Sheep
Clementine
The Bear Went Over the Mountain
For He's a Jolly Good Fellow
Down by the Riverside
* Bingo (B-I-N-G-O)
Hickory Dickory Dock