How to Use a Podcast RSS Feed
Copy & paste the RSS Feed URL into your podcast software.
Some podcast software will let you drag and drop the URL into it.
If you don't have podcast software, try one of these free programs.
How to Add Podcasts to iTunes Using Copy and Paste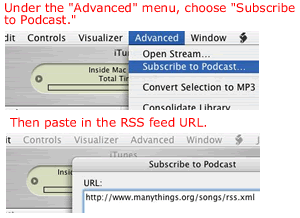 For Other Podcasters
Add the following to your own podcast page, if you like.
Copy and paste this code into your page, then change the URL to your podcast RSS file.
Note that I made the color orange since at the time I wrote this (January 2006), orange seems to be the most common color to indicate an RSS feed.