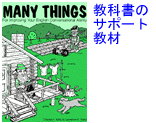 英語を楽しく勉強しよう
はじめて訪問された方:
First-time visitors may want to try these first.
You get 12 new words plus 12 review words every day.
Match the English word with the 日本語 word.


18,000 Sentence Pairs (400 X 45 Flashcard Sets)



20,000 以上



This is a playlist of videos for pronunciation practice.


文字を順番に拾って単語を完成させてください
Catch the letters in the correct order.


As you listen, you can read the text.
See the Japanese word. Click the letters in the right order to spell the English word before you run out of time.
Guess the letters in the mystery words.

このサイトについて
当サイトは無料で利用できます。
This page links to our materials on these three web sites:
www.manythings.org, a4esl.org & www.aitech.ac.jp